1. COVID-19 Will Continue to Change Everything
Contact centres employing hundreds of agents have a high risk of exposure to coronavirus, which is why most will not resume normal operations.
However, the switch to remote working has opened the eyes of many as to the benefits – in terms of flexibility, well-being and productivity – of homeworking, with most contact centre planning a future with a hybrid contact centre model.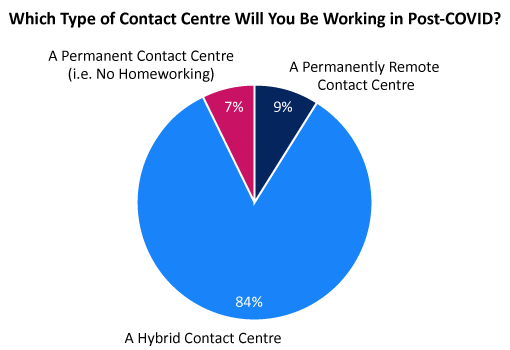 These statistics indicate that contact centres are unlikely to return to the conventional ways of doing things, but that they will also not be fully remote. Most will look for the optimum balance of the two.
2. Your Data Won't Be as Secure as Before
In 2019, there were 1,506 data breaches in the United States alone, each costing an average of $3.9 million. In fact, 22% of all breaching cases revolve around phishing.
Ransomware attacks have grown in prevalence as well. What's concerning is that these security incidents took place before the pandemic, and work-from-home arrangements have increased such vulnerabilities.
If your contact centre isn't training remote agents about the latest hacking and phishing tactics, it's only inviting disaster.
Furthermore, system administrators need to stay on top of all manner of apps, restrict remote agents from installing unauthorized software, and update to the latest security measures.